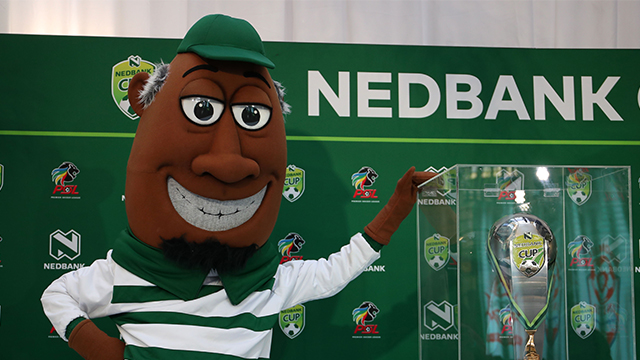 The Nedbank Cup in numbers.
0 – The Nedbank Ke Yona Team will once again be seeking their first victory in the annual Nedbank Challenge in 2020 after suffering a penalty shoot-out loss to Kaizer Chiefs and then defeats to Orlando Pirates, Mamelodi Sundowns, SuperSport United (twice), Free State Stars and TS Galaxy.
1 – Three of the National First Division teams that are competing in the Nedbank Cup Last 32 this year will be doing so for the first time, giving them a debut in the competition. They are TS Sporting, Uthongathi and Real Kings.
2 – The number of former Nedbank Ke Yona Team graduates who have lifted the Nedbank Cup trophy. Aubrey Modiba achieved the feat with SuperSport United in 2017, while the late Thembinkosi Mbamba, 23, helped TS Galaxy to the title in 2019. Mbamba died in a car accident on May 25, 2019, just a week after playing in the decider.
3 – Zamuxolo Mduli, Lunathi Mdatyulwa and Thulani Cele are the only Nedbank Ke Yona Team players to score a goal in the Nedbank Challenge clash when they netted against SuperSport United (2017), Free State Stars (2018) and TS Galaxy (2019) respectively. Former graduate Aubrey Modiba scored for SuperSport three years ago to be the first ex-Nedbank Ke Yona Team player to net against the side. He was also the captain of Matsatsantsa.
3 – Former Kaizer Chiefs and SuperSport United coach Stuart Baxter has won the Nedbank Cup on more occasions than any other coach. His three titles came with Chiefs in 2015, and back-to-back successes with SuperSport in 2016 and 2017 before he left the club to join Bafana Bafana. 
3 – Baroka FC are the only third-tier side to reach the Nedbank Cup semi-finals after they achieved that feat in 2011, beating Moroka Swallows and Kaizer Chiefs on their way to the Last 4. They were eventually edged on penalties by second-tier Black Leopards.
4 – The number of Nedbank Ke Yona Team graduates who have scored in the Nedbank Cup competition – Ian Chikohwa (University of Pretoria), Aubrey Modiba (SuperSport United), Bongani Mbuli (Super Eagles) and Bongani Sam (Bloemfontein Celtic).
4 – Four lower league sides have reached the final of the Nedbank Cup since 2008, with one of those, TS Galaxy, going on to lift the trophy. Mpumalanga Black Aces lost 1-0 to Mamelodi Sundowns in the first year, while in 2009 University of Pretoria went down by the same scoreline to Moroka Swallows. And two years after that, in 2011, Black Leopards were in the decider but lost 3-1 to Orlando Pirates. But TS Galaxy made history by beating Kaizer Chiefs 1-0 in the decider in 2019.
4 – Orlando Pirates and SuperSport United have appeared in almost half of the last nine Nedbank Cup finals since 2011. Pirates' four appearances have included two wins and two defeats, both to SuperSport. Matsatsantsa have won three of their four final appearances in that time, losing out to Kaizer Chiefs in 2013.
5 – Five South Africa coaches have lifted the Nedbank Cup in the last 12 editions – Trott Moloto with Mamelodi Sundowns to 2008, Roger de Sa with BidVest Wits in 2010, Gavin Hunt with SuperSport United in 2012, Pitso Mosimane with Mamelodi Sundowns in 2015 and Dan Malesela with TS Galaxy in 2019.
6 – Kaizer Chefs have now gone six years without lifting the Nedbank Cup title and matched their longest run without success since the competition was first played in 1971. They did not win a title between 1993 and 1999 (tournament not played in 1997), and 2007 and 2012. They made the final last year but lost 1-0 to second-tier TS Galaxy. 
6 – AmaZulu have appeared in six finals of the Nedbank Cup competition dating back to its start in 1971 … and never won! They have tasted only defeat in the decider. Will it be their year in 2020?
6 – SuperSport United and Jomo Cosmos have been involved in the most penalty shootouts since 2008 with six each. SuperSport have won five of theirs and Cosmos four of their six.
8 – There have been eight different winners of the Nedbank Cup in the 12 seasons played since 2008. SuperSport United have been the most frequent winners with three titles, while Mamelodi Sundowns and Orlando Pirates have won twice. Moroka Swallows, BidVest Wits, Kaizer Chiefs, Free State Stars and TS Galaxy are other victors. 
8 – All eight sides from the SAFA structures to take part in the 2020 Nedbank Cup compete in the ABC Motsepe League, the country's third tier. It is unusual not to have a team from the SAB Regional League (fourth-tier), but the following have qualified for the Last 32: Happy Wanderers (KwaZulu-Natal), Passion FC (Mpumalanga), Hungry Lions (Northern Cape), North West University (North West), Zizwe United (Western Cape), Super Eagles (Free State), Vaal University of Technology (Gauteng) and Amavarara (Eastern Cape). 
9 – The 12 previous Nedbank Cup finals have been played at nine different venues, with only Durban's Moses Mabhida Stadium seeing a repeat with four deciders. Other venues are the Johannesburg Stadium, Rand Stadium, Soccer City, Mbombela Stadium, Orlando Stadium, Nelson Mandela Bay Stadium, Peter Mokaba Stadium and Cape Town Stadium.
9 – Orlando Pirates hold the record for the most runner-up finishes in the history of the Nedbank Cup competition with nine (to go with eight tournament wins). They are also the only side to lose two finals since Nedbank took over sponsorship in 2008.
10 – The leading scorers in the history of the Nedbank Cup are the Mamelodi Sundowns duo of Nyasha Mushekwi and Hlompho Kekana, who have both scored 10 goals each! Kekana is still with the Brazilians and could add to his tally this year, while all of Mushekwi's goals came in the 2012 season! That remains the most goals scored in a single campaign by any player. New Zealand international Jeremy Brockie, who now plays on loan for Maritzburg United, has nine goals, though all those came with SuperSport United.
13 – Kaizer Chiefs have won South Africa's FA Cup the most times if you include all the years of the Nedbank Cup competition dating back to 1971. They have 13 titles, with Orlando Pirates next on the list with eight wins. Moroka Swallows and SuperSport United have five each.
24 – The most goals scored in the Nedbank Cup, or any professional game in South Africa for that matter, was the 24-0 hammering of Mamelodi Sundowns against Northern Cape fourth-tier side Powerlines FC in 2012. Sundowns led 10-0 at the break but 'turned it on' in the second period.
32 – There are 32 teams that compete in the Nedbank Cup proper, not counting the thousands that enter the preliminary stages from the National First Division through to the amateur teams. The final field is made up of 16 Premier League clubs, eight from the NFD and eight from the SAFA structures.
38 – Mamelodi Sundowns have played the most matches in the Nedbank Cup since 2008, two more than Orlando Pirates (36). They have also won the most matches (26).
37 – Mamelodi Sundowns have played more matches in the Nedbank Cup since 2008 than any other side with 37. They also have more wins (26) and goals (77) than any other team over that period. Amazingly, they have only drawn three of those 37 fixtures!
78 – Mamelodi Sundowns have scored the most goals in the Nedbank Cup since 2008, a whopping 78 in 38 games, more than two per match. Their numbers is boosted by the 24-0 victory over Powerlines FC in 2012.
2008 – The Nedbank Cup was first played in 2008 and will be celebrating its 13th edition this year. 
2020 – The winner of the Nedbank Cup this year will be entered into the 2020-21 CAF Confederation Cup, where they will fly the country's flag on the African continent.