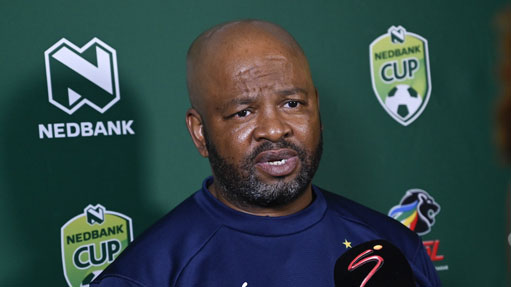 Mngqithi holding thumbs over player fitness ahead of Nedbank Cup decider
PIC: Manqoba Mngqithi
Mamelodi Sundowns co-coach Manqoba Mngqithi admits his side would be foolish to write off the chances of rivals Marumo Gallants in their Nedbank Cup final clash at the Royal Bafokeng Sports Palace on Saturday.
Sundowns are the favourites to lift the title and complete a domestic 'Treble' but were knocked out in the semifinal stage by holders Gallants last season and are wary of overconfidence. 
You had 18 players missing due to illness for Monday's 3-2 league win over Royal AM. What is the situation now?
"It is going to be a tough match. We have to prepare very well and hope that all the guys who have the flu can come back strong. But we are very optimistic [that] all the players that were not on the pitch against Royal AM [will return]. I think we had only 17 players during the game. So that says to you that everybody else that was not on the pitch was sick. At this stage we are not yet 100% sure but on Monday a lot of the players were already showing signs that they are recovering. [On Tuesday] I met a few who were coming here [to Chloorkop] for a shoot and one or two of them were not looking very good, but when we get the doctor's update we will understand what we have for the weekend."
Many have you down as overwhelming favourites to lift the Nedbank Cup on Saturday … 
"To be honest, and I think I have shared this before, these are some of the matches I don't like. Matches where you are expected to win and where everybody looks at you as the favourite are very difficult. You have a responsibility as a coach to intrinsically motivate the players to understand that the game is just as important as if you were playing any other big team. At times you are never too sure how far it has gone. You don't know what happens with the subconscious mind when you are telling someone how important a match is, and how difficult it can be to play when you are not intrinsically motivated to say, 'I want to win this match at all costs'. And not because there is a bonus after the game or anything else but because once there is intrinsic motivation it stands a chance of creating a lot of anxiety within you. Once you are anxious, you are bound to make silly mistakes. Anxiety is the biggest enemy of precision; you can't be precise when you are anxious – that is the only concern that I have."
It has been a bit of an up and down period in terms of results …
"There are many areas that we still need to improve on. We conceded some silly goals this year and we have to improve on that. We've done fairly well in our standards, but we believe Sundowns can do better than that. And it is very important to keep something on the neck at the end, that's what motivates them [players], so when you begin with the end in your mind, everybody understands that you are fighting for one thing and you are clear in your mind that you are not playing for fun. You are playing to win trophies, and that culture is growing big now and everybody understands how important it is."
You have a lot of experience in your technical team with co-coach Rhulani Mokwena and senior coach Steve Komphela. Does that help ahead of games like these? 
"I've always been in environments where the ratios in training are important. You can only have five percent influence in the group that we have, so if my influence isn't going to make a difference, it's important to gather the other percentages from the support staff. What is most important in that space is the leadership within that group, with maturity and objectivity being the heart of that. It's a healthy set-up."
A domestic 'Treble' would surely mean a hugely successful season, but does that quarterfinal loss in the CAF Champions League cast a shadow over the campaign?
"The truth of the matter is that to everyone, it'll look like a successful season, but as the playing and coaching group, we know we could have had four trophies. Unfortunately, we bombed out again in the quarterfinals of the Champions League, but to a certain extent, we're happy we've improved our benchmarks from last season. We had one trophy last season and now we already have two, which speaks of the improvement. However, the dark cloud from the Champions League remains and we're still unhappy about that."
Do you think criticism of the team for that failure is warranted then?
"I never got to that negative space and I'm a positive person. I always give room for people to be pessimistic because that's also in our nature. I also don't know if it's in our background. We're pessimistic and we take too long to think. We have a lot of 'we shall see situations' instead of being supportive. It happens in our families and it's easy for black families to be pessimistic. If you're doing well, someone can say: 'Hayi, sethwele lo or unenyoka' [This one is practicing witchcraft]. We never say a person is doing well or credit them. I prefer to focus on the silver lining in the dark cloud. But I also don't blame people for being pessimistic."