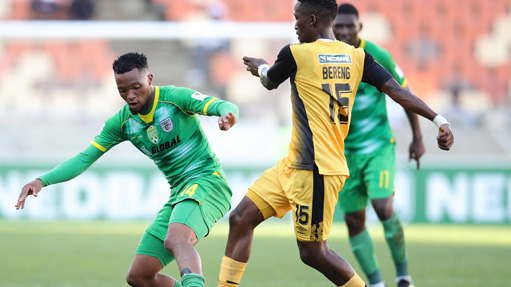 The records of this year's Nedbank Cup quarterfinal teams
PIC: Goodman Mosele of Baroka challenged by Tshwarelo Bereng of Black Leopards during their 2020 Nedbank Cup quarterfinal
The Nedbank Cup quarterfinals loom large this weekend and for some of the remaining sides in the competition this season, this has been an easy stage to navigate in the past.
But others have struggled and will want to improve their records with the most coveted knockout silverware in South African football just three wins away.
Two of the teams are at this stage for the first time in their history – Summerfield Dynamos and TTM have yet to feature in the quarterfinals before. The TTM that played last season is now known as Marumo Gallants. 
Of the other six teams, SuperSport United have had the best success rate at this stage, winning five of their previous six visits to the quarterfinals (83%). 
Their only blemish came in 2014 when they lost 0-2 to Kaizer Chiefs, who they would go on to beat via penalties in 2017 to gain some revenge. 
Baroka FC have won 75% of their quarterfinals, also beating Chiefs in 2011 when they famously reached the semifinals as a third-tier club in one of the more remarkable stories in Nedbank Cup history. But their only loss was also against Chiefs, a 1-0 defeat in 2018. 
Mamelodi Sundowns have won 70% of their games, having reached the quarterfinals on 10 occasions. Four of those fixtures have been against Orlando Pirates, where they have won two and lost two. 
Their only other defeat was to Platinum Stars in a surprise 2-1 reversal in 2013, though then coach Pitso Mosimane was only just starting to turn the team into the juggernaut they are today. 
University of Pretoria have won one and lost one, beating Bloemfontein Celtic in 2009 but losing to AmaZulu the following year. This is their first quarterfinal since 2010.
Marumo Gallants have won the only other quarterfinal fixture they played, which was a 2-0 success against Black Leopards last season.
And finally, Royal AM will want to banish the memory of their 4-0 loss (as Royal Eagles) to BidVest Wits in the 2020 quarterfinals.    
RECORDS IN THE NEDBANK CUP QUARTERFINALS 
BAROKA FC
Quarterfinal ties won/lost: 3/1
2011: 2-1 vs Kaizer Chiefs (home)
2016: 2-0 vs Polokwane City (away)
2018: 0-1 vs Kaizer Chiefs (away)
2020: 1-0 vs Black Leopards (home)
MAMELODI SUNDOWNS
Quarterfinal ties won/lost: 7/3
2008: 2-0 vs FC Cape Town (away)
2010: 3-1 vs Orlando Pirates (home)
2012: 2-0 vs Maritzburg United (home)
2013: 1-2 vs Platinum Stars (home)
2014: 1-2 vs Orlando Pirates (home)
2015: 2-0 vs Mpumalanga Black Aces (away)
2016: 0-2 vs Orlando Pirates (home)
2018: 2-1 vs Cape Town City (away)
2020: 1-0 vs Highlands Park (away)
2021: 4-1 vs Orlando Pirates (home)
MARUMO GALLANTS
Quarterfinal ties won/lost: 1/0
2021: 2-0 vs Black Leopards (away)
ROYAL AM
Quarterfinal ties won/lost: 0/1
2020: 0-4 vs BidVest Wits (home)
SUPERSPORT UNITED 
Quarterfinal ties won/lost: 5/1
2012: 1-0 vs Jomo Cosmos (home)
2013: 2-1 vs Maritzburg United (away)
2014: 0-2 vs Kaizer Chiefs (away)
2015: 1-0 vs Lamontville Golden Arrows (home)
2016: 2-1 vs Mpumalanga Black Aces (home)
2017: 1-1 vs Kaizer Chiefs* (away)
*Won 5-3 on penalties  
UNIVERSITY OF PRETORIA
Quarterfinal ties won/lost: 1/1
2009: 1-0 vs Bloemfontein Celtic (home) 
2010: 1-2 vs AmaZulu (away)