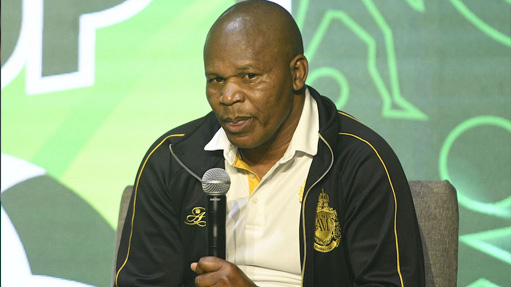 Maduka eager to make up for 2020 Nedbank Cup final heartache
PIC: John Maduka
Royal AM coach John Maduka has some personal history with the Nedbank Cup having been in charge of Bloemfontein Celtic when they narrowly lost the 2020 final to Mamelodi Sundowns. 
Gaston Sirino broke their hearts that day, but the way Royal AM have been playing this season you would not bet against Maduka reaching another final.
Standing in his way in the Last 16 is Swallows FC, who they face at the Dobsonville Stadium on Friday, which comes shortly after they beat the same opponents 1-0 at home in the DStv Premiership on Sunday with an injury-time winner.
Maduka admits it will be a tall order to advance, but says the team is desperate for success in the Nedbank Cup. 
Nedbank: How big a game is this for you in your season and do you draw confidence from the fact you defeated Swallows FC just this past weekend?
John Maduka: We want to go to the next stage in the cup and for us to be able to do so we'll have to go all out. We'll be playing Swallows for the second time in as many days but this will be a different ball game. It's cup game and if you don't finish it in 90 minutes, you get extra time and penalties. But we would love to go all out and make sure we try our best because we've got a squad that's capable and we're looking forward to the game. It's important that we do well in this cup because it's the one left this season [for them to win]. But for us it will be important to win first against Swallows, a game we believe will be a very difficult. But with the squad that we have, we know that we're capable of competing with anyone. We'll try to take the game to them because the game has to finish. We want to use the ball well and make sure we avoid them hurting us.
You have added some major PSL experience to the squad in the last window, will that help you in your cup run?
It's a big bonus to us to have players like [Thabo] Matlaba, [Ricardo] Nascimento and [Mxolisi] Macuphu. They're experienced players, they've been there before and they're players who want to win something because they come from teams that having been winning. When you get players who have won things in their lives, whenever they play they want to win. Having them is a very, very big bonus for the team.
Striker Victor Letsoalo just received another national team call-up and is perhaps the only player who can challenge Mamelodi Sundowns' Peter Shalulile for the Golden Boot this season. Do you think he can do it?
To see our players go to the national team or being recognised is very good for the team. Any coach will tell you they are happy to see their players in the national team; it makes it an easier job for me because we get exposure. It's good to have the player of Victor's calibre that is in the national team and has been doing well. I just hope that nothing else disturbs him, especially injuries, suspension or maybe loss of form. I think for him to be able to keep the position in the national team, he can't afford for his performance to go down. So he's been working very hard. Again he's a team player, he's not selfish. He's still the same player when around other players. Most of the time when you have achieved something in life, you tend to change but Victor hasn't changed.
Have you reset your league target now that you are in second place in your maiden season in the top flight?
We don't want to put pressure on the players, our aim was to make sure we're in the top eight. When we're sure we're there maybe we can play for something else to finish in a better position. But for now we're happy with the way things are going. It's good to be in top two but the main aim for us is still to be in that top eight.