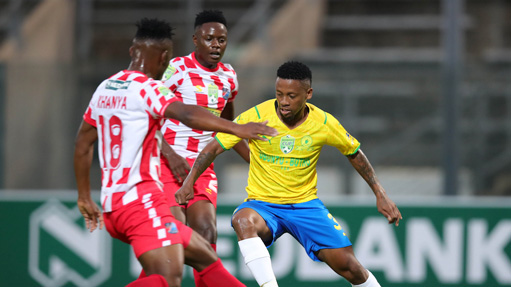 Kutumela brace helps Sundowns into Nedbank Cup quarterfinals
PIC: Thabiso Kutumela
Mamelodi Sundowns scored a flurry of late goals to put a gloss on the scoreline as they defeated Free State ABC Motsepe League side Mathathai FC 6-0 in their Nedbank Cup Last 16 clash at the Lucas Moripe Stadium on Tuesday.
The Brazilians eased into the quarterfinals after two early goals had them 2-0 up inside the opening four minutes, but they were also made to work hard by Mathaithai, whose players will no doubt never forget the clash against the country's top team.
Sundowns made a number of changes to their starting line-up, but such is the quality of their squad, the XI they put out were still of huge quality.
They took the lead inside two minutes when Surprise Ralani scored from close range after Mathaithai failed to clear a ball into the box. That became 2-0 just minutes later when Themba Zwane turned in a low cross with the visiting defence all at sea.
To their credit, Mathaithai kept Sundowns scoreless until the 66th minute when their resistance broke and Thabiso Kutumela, who missed two excellent chances previously, finished a neat move.
He did not have to wait long for his second as he bundled the ball over the line from close range, before Lebohang Maboe, just back from long-term injury, added a touch of class with a chip from 25-yards after he spotted Mathaithai goalkeeper Mbali Tshabalala off his line.
The visitors were running out of steam when Andile Jali put the cherry on top for Sundowns with a long-range scorcher from 30-yards that nestled into the back of the net.
"We knew it would not be easy, these are some of the most difficult games to play as a professional footballer," Sundowns co-coach Rhulani Mokwena said. "Your mind tells you that you are playing against a team from a lower division and that can make you relax.
"It could easy have been a banana-skin from psychological point of view, but we had to do justice to the brand and integrity of the club. We rested a couple of players, but how fantastic is to see Lebo Maboe back on the pitch?"  
Mathaithai can leave the Lucas Moripe Stadium with their heads held high, although the result went against them, they showed a fighting spirit and no shortage of quality.
"Congratulation to Sundowns, we wanted to win the game, we prepared the boys well, but it was not to be. But I am very happy with the way we performed. It was a great experience for us," Mathaithai coach Morena Lethone said.
LAST 16 RESULTS
Tuesday, March 8
Mamelodi Sundowns 6 (Ralani 2', Zwane 4', Kutumela 66', 72', Maboe 83', Jali 88') Mathaithai FC 0
LAST 16 FIXTURES
Wednesday, March 9
18h00 – Marumo Gallants vs Orlando Pirates
Friday, March 11
15h00 – Venda Football Academy vs University of Pretoria
18h00 – Swallows FC vs Royal AM
Saturday, March 12
15h00 – Sinenkani FC vs TTM
18h00 – Platinum City Rovers vs SuperSport United
Sunday, March 13
15h00 – Summerfield Dynamos vs Black Eagles 
18h00 – TS Galaxy vs Baroka FC 
TOURNAMENT STATS 
Matches Played: 17
Goals Scored: 42
Biggest Victory: Mamelodi Sundowns 6 Mathaithai FC 0 (March 8, Last 16)
Most Goals in a Game: 6 – Mamelodi Sundowns 6 Mathaithai FC 0 (March 8, Last 16)
GOALSCORERS 
2 goals – Sede Dion (Marumo Gallants), Thabiso Kutumela (Mamelodi Sundowns), Rotondwa Mutsivhuli (Venda Football Academy), Surprise Ralani (Mamelodi Sundowns)
1 – Simiso Bophela (Venda Football Academy), Siboniso Conco (Lamontville Golden Arrows), Rushine de Reuck (Mamelodi Sundowns), Sibusiso Fakude (TS Sporting), Ruzaigh Gamildien (Swallows FC), Deon Hotto (Orlando Pirates), Andile Jali (Mamelodi Sundowns), Augustine Kwem (TS Galaxy), Delemo Lekhanya (African All Stars), Yusuf Maart (Sekhukhune United), Lebogang Maboe (Mamelodi Sundowns), Sabata Manele (Mathaithai), Lulama Maqoko (University of Pretoria), Thami Masiya (Baroka FC), Tsepo Matete (TTM), Khanyisa Mayo (Cape Town City), Sanele Mgwaba (Black Eagles), Sibongiseni Mkhize (Sinenkani), Teboho Modise (Mathaithai), Luxolo Nabo (Black Eagles), Olwethu Ncube (Black Eagles), Simphiwe Ndlovu (Platinum City Rovers), Mbongeni Ngcobo (FC Sivutsa), Lantshene Phalane (Royal AM), Kamogelo Pheeane (University of Pretoria), Iqraam Rayners (SuperSport United), Pavol Safranko (Mamelodi Sundowns), Yagan Sasman (Swallows FC), Moeketsi Sekola (Free State Stars), Peter Shalulile (Mamelodi Sundowns), Mphumelwa Shongwe (FC Sivutsa), Mcedi Vandala (Summerfield Dynamos), Themba Zwane (Mamelodi Sundowns)
Own goals – Relebogile Mokhuoane (Cape Town City)