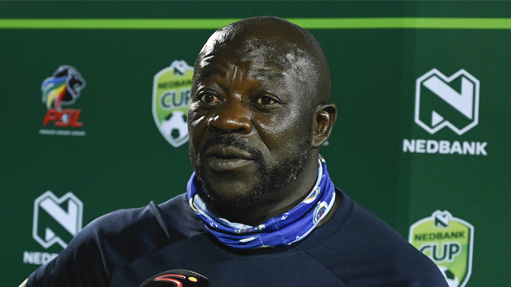 SuperSport gunning to regain Nedbank Cup title
PIC: Kaitano Tembo
SuperSport United last won the Nedbank Cup in 2017 and since then have exited in the first round in each of the proceeding four years. Now they have a chance to earn a quarterfinal spot, but standing in their way is GladAfrica Championship side Platinum City Rovers.
The teams will meet at Olen Park on Saturday, with SuperSport never having lost to lower league opposition in the past, as coach Kaitano Tembo shares his thoughts ahead of the game.  
Nedbank: What have you seen of Platinum City Rovers and how do you rate them?
Kaitano Tembo: We've watched a few of their games and they are a very dangerous team that have a few experienced players, ex-PSL players like Thabiso Nkoana, who was previously with us, as well as Olaleng Shaku from Baroka and Oupa Manyisa. So they are quite a formidable team that you can't take for granted. We need to prepare very well and make sure that we go out there and give a very good performance to get to the next round.
What are your injury concerns at this stage?
We only have Ronwen Williams, who's got a slight knock. We will evaluate him and see how it goes throughout the week to know if he's going to be available or not. But the signs are not looking OK. Hopefully our medical team will do wonders to make sure that he's available for the weekend. Jamie Webber is also out with suspension.
You went through a sticky patch, but claimed an excellent 2-0 win over AmaZulu last time out …
This game has come at the right time for us. Confidence was a little bit down, but I think after a win against AmaZulu, there is more confidence in the players. And we've always said the Nedbank Cup gives us an opportunity to finish the season with silverware. And we take it very seriously. We've been preparing very well. And I think the players are also looking forward to the game and we are going to treat this match with the respect it deserves. Because it's a very important game for us.
You are a very young side having lost a number of experienced players in recent seasons …
There's been a lot of transformation at the club in terms of our approach. We have been a team that was always bringing in experienced players and competing aggressively in the [transfer] market. The last three season we've taken a different approach whereby if you look at it, there are a lot of [experienced] players that have left. We've tried to give opportunities to our own youngsters from our academy. And that comes with a bit of a lack of consistency. But it doesn't necessarily mean that we are less ambitious in terms of what we want to achieve as a team. And as a club, we still want to win trophies. So with this Netbank Cup, we want to go out and really have a go at it. 
Sipho Mbule had made a return to action after injury, you must be looking forward to having him fire again? 
Sipho has been doing very well, he's been working very hard and we've been very supportive of him because we feel that he is a talented youngster and it's our duty to try and help and guide him so that he is not lost to South African football. His response has been very good, the attitude at training has been very good. But he's just lacking a little bit in terms of match fitness, and that can only come with him playing. But we are quite happy with his progress so far. And I think very soon you will start seeing the real Sipho that we all know.