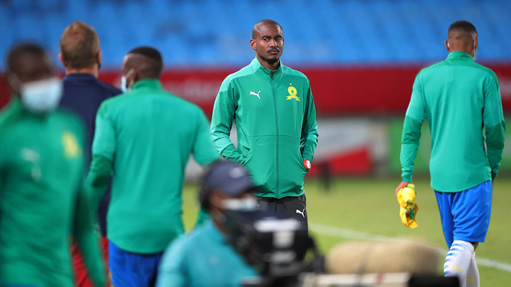 Sundowns not taking minnows Mathaithai lightly
PIC: Rhulani Mokwena
Sundowns not taking minnows Mathaithai lightly
Mamelodi Sundowns will be overwhelming favourites when they host Free State ABC Motsepe League side Mathaithai in their Nedbank Cup Last 16 clash on Tuesday.
But the magic of the cup means you can never be certain of victory and there have been plenty of shock results in the past.
Sundowns co-coach Rhulani Mokwena knows this and says they must treat their third-tier opponents with the utmost respect.   
Nedbank: What information have you been able to gather on Mathaithai ahead of tomorrow's game?
Rhulani Mokwena: We've tried to collect as much information as we can. We've tried to profile them from a qualitative perspective in relation to who they are. If you look at where they are within the ABC Motsepe League, they've got 15 points in position four and the leader is on 26 points. So the situation is a bit complex for them in the league, but of course because maybe they have a bit more focus on their cup run. They've managed to do very well to get to this stage. They've got some very good players individually. They play a 4-3-3 with a single pivot. They've got a very good goalkeeper in Mbali Tshabalala, very confident on the ball, very industrious, very aggressively in initiating build-ups and comfortable with his distribution. Probably their best player is the number 77 [Ipelang Seepamore]. He used to play for Vasco de Gama and Bloemfontein Celtic and the national Under-20 side. OK, of course, he maybe more experienced now and above 30 [years old] but still, you can see his versatility in being able to help them play as a nine, play as a 10 sometimes, and even as one of the double eights. But upfront, they've got a very, very fast attack. They've got a boy called 'Rashford', the number 11 [Thabang Mabenyane] was the focal point, he is quick, aggressive and looks to play behind the striker. They've got Teboho Modise, who I think is probably their most dangerous player. Very, very aggressive in his dribbling abilities, gets into the final third, inverts and plays more in central areas and provides a lot of problems. Hopefully the information that we've collected comes in handy for us to be able to win the match.
What is the injury situation looking like at Chloorkop, will anybody be back from the treatment room?
It's still the same, the status quo hasn't changed. Gaston [Sirino] is now back on the injury list after a calf injury. That has set him back a little bit after he was still recovering from the nose fracture and getting accustomed to playing with the facemask. Kennedy [Mweene] has shown also that when you are given an opportunity, you have to take it and I think that goes for everybody else. We don't focus too much on who's out. But we focus a lot more on who's available and giving them our energy, our confidence and the belief. We want to be the Mamelodi Sundowns that is trying to win every single match and when you are in that space, you understand that the counter-consequences are that you suffer a lot from wear and tear. You've got to try to pre-empt that by making sure that the squad is good enough and strong enough to be able to resist the volume of games that come thick and fast.
Many people have drawn parallels with the 24-0 win over Powerlines in the 2012 Nedbank Cup … 
Powerlines … we can't live in the past. It was it was a huge, huge achievement by a very talented group [in 2012]. That group, like this group, worked very hard. But this is a group that has done incredible things, has broken so many records and is going to continue to play the type of football that is synonymous with Mamelodi Sundowns, while still trying to maintain a winning culture. We always look to win every single match, our mentality, win or lose in the previous game, we go into the next game to try to win.