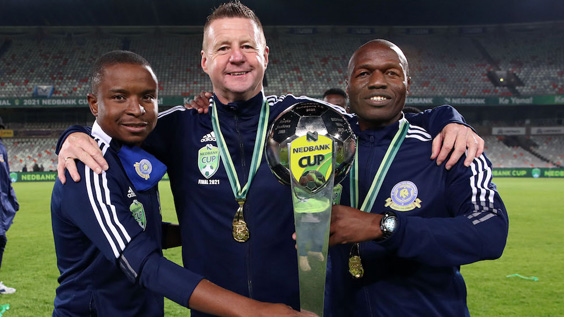 What they said … coaches speak after Nedbank Cup final
PIC: From left: David Mathebula, Dylan Kerr and Mpho Maleka
What they said … coaches speak after Nedbank Cup final
There always has to be a winner and a loser in knockout finals and the sweet taste of victory can be equally bitter for the vanquished.
TTM coach Dylan Kerr was left delighted by his side's 1-0 victory over Chippa United that saw them lift the 2021 Nedbank Cup title at the Free State Stadium on Saturday.
Here is what the coaches had to say after the close-fought final.
DYLAN KERR, COACH OF TTM
''Credit to everybody. Credit to [Chippa United coach] Vlad [Heric] and his team. It's a cup final. Ýou've got to dig in deep. We made mistakes in the second half to give them counter-attacks but then we defended like we should do.
''We defended like heroes. Credit to all the players and my staff. Credit to Mpho Maleka and DvD [David Mathebula], they've been brilliant. We've got our just reward and I think the chairman might phone me tonight and say congratulations.
''At half-time I said the only way we're going to lose this game is if we give them too much respect, if we allow them too much time on the ball and the first half I thought we dominated but for some reason we never seem able to make that killer pass. And it's always the wrong pass.
''They battled, kept their heads cool. I'm just so proud of everyone that's involved with Tshakhuma Tsha Madzivhandila
''At the end of the day the trophy is the one thing that matters. Getting into CAF [Confederation Cup] is the second biggest thing and the prize money, it helps the chairman clear a lot of things up that he's been left with.
''The players have got to enjoy tonight but not too much because we've got a very tricky game against SuperSport [United] on Wednesday and we're still not out of danger. We've got to be careful tonight. There'll be some celebrations. But they'll be in bed by 10pm, that's for sure.''
VLADISLAV HERIC, COACH OF CHIPPA UNITED
''We tried to approach this game like any other game without the pressure. But unfortunately, first half-an-hour we didn't exist. It's like we were enchanted.
''The last 15 minutes of the first half we started to play, we started to recover from the shock of conceding a goal from that rebound [deflection]. The first half from both sides, there was no chances and we get that cracker [of a shot], if I may say, and then we were shocked./div>
''Second half, we came like a different team. We looked much more organised, much better, more offensive. We moved more but we couldn't penetrate. We couldn't create the chances.
''Maybe one or two but it was not enough for us to recover the game. It's sad for those who work hard to be in a final and now to lose it.
''I believe that we must focus on the relegation campaign and try to get ourselves safe in the PSL. That's the only way we can turn.''