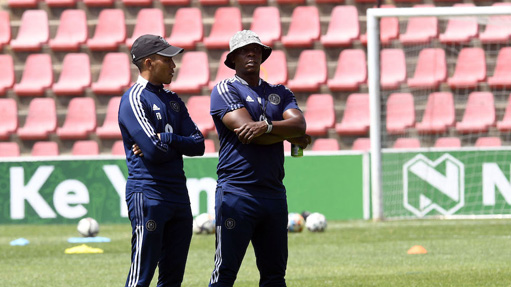 Pirates can put Soweto Derby misery behind them with Nedbank Cup win
PIC: Fadlu David (left) and Mandla Ncikazi, co-coaches of Orlando Pirates
Orlando Pirates will hope to bounce back from their Soweto Derby defeat at the weekend when they travel to Marumo Gallants for a Nedbank Cup Last 16 tie on Wednesday.
It is a tricky fixture against an in-form team, but Pirates are hopeful of success as they seek a first Nedbank Cup trophy win since 2014.
Co-coach Fadlu Davids admits the game is a "priority" for a side that is competing on three fronts in the DStv Premiership and CAF Confederation Cup as well. 
Nedbank: Is it easy to quickly reset after a Soweto Derby defeat? 
Fadlu Davids: It's always disappointing with a defeat, and on top of that, the second defeat of the season in the Soweto Derby. But it is very important to reset the thinking, to not lay too much in the disappointment of the Derby, but immediately look forward. What is facing us is a team [Marumo Gallants] in form, a good footballing team, a team that you have to respect on all fronts. We have one goal, to progress to the next round.
Do you feel like the team is moving forward this season in terms of what you and your co-coach Mandla Ncikazi are trying to instill in them?
We're trying to get the players to follow the process, to take steps to improve as a team and become stronger as a unit with the ball and without the ball. So the one front is the process. The other front is the results. How we get the results is also related to building the mentality of the players in terms of being ruthless. Being ruthless in relation to some matches that you might not play your best, but still get the result and scrape through. We have a certain identity in relation to how we always want to play in a certain way. It's not about throwing those principles away, but sometimes you've got to grind to get the result. How the match plays out in terms of what the opponent is putting in front of you, where they're becoming more physical than you. Sometimes you've got to score goals that are from outside the box. Sometimes you've got to take responsibility in relation to shots. Sometimes you've got to pass to the teammate that's in a in a better position. So these decision-making elements are part of it. 
How important is this game against Gallants in the Nedbank Cup for your season?
We have the three competitions that we are heavily involved in, and with the CAF Confederation Cup we are playing [Royal] Leopards on Sunday. But the Nedbank Cup is the next priority. In the way we prepare for matches, the next game is always the most important. 
What do you make of Gallants under their relatively new coach in Dan Malesela?
Yeah, a typical transformation [with a new coach]. They have the players that suit the coach, just if you talk about the three in the midfield, being able to rotate the ball, and pass and move. They are on a fantastic run and they have got a clear playing identity. It's something that resonates with us as well. With slight differences in relation to the intensity we play at, and the speed, but he [Malesela] has done a fantastic job so far. You can only admire and see the coach's personality comes through within the team and we know we're going to face a tough opponent. It's not a team that really has too many shots on goal, they prefer possession and creating the perfect opportunity. So with Gallants' possession-based style, it's about how we can implement our own style, knowing their weaknesses as well. 
You have almost a full complement of strikers now after the likes of Zakhele Lepasa and Tshegofatso Mabasa returned from injury. How do you rotate them with perhaps all six expecting to play each week?
It's about us trying to find the right possibility to play perhaps with two strikers. In relation to team selection, there are various aspects you look at first and foremost. Number one, are you coming to train? Are you punctual in relation to being at training, and not having disciplinary issues that takes you out of selection? Then it's in relation to your performance in training and how you exert yourself. And coming back to my first point again, it is about us finding the right possibilities now that suddenly we have [six fit strikers]. And it's about us finding that moment, that chemistry within the lineup, whether it was two strikers, whether it's with one striker, and three number 10s or three players running beyond the striker. But that moment for us to think about perhaps two strikers is the way to solve this.