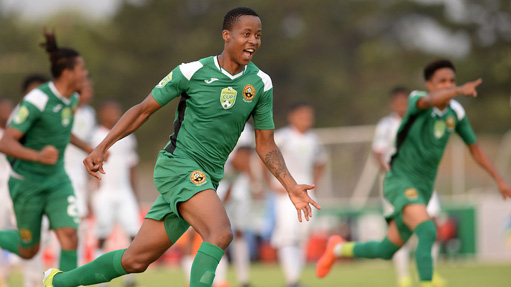 Nedbank Cup Last 16 traditionally delivers goals
PIC: Luxolo Nabo of Cape Town All Stars runs to celebrate after All Stars beat Cape Town Spurs in penalty shootout during the 2021 Nedbank Cup Last 16 game that finished 3-3.
There are eight fantastic ties to look forward to in the 2022 Nedbank Cup Last 16 and looking at the line-up, there should be no shortage of goals.
It is a round, with a few exceptions, where goals are traditionally scored and the last two years have certainly delivered.
Anything over an average of 2.50 goals per game is considered rich entertainment for fans, and the last two years have seen the Last 16 smash that.
A total of 27 goals were scored in the eight games played in 2020, an average of 3.38 per game. Just three of the teams fail to find the back of the net, and every game had at least two goals scored.
There was also a glut in 2021, where 25 goals were scored at an average of 3.13 per game, keeping the average up above the magical three mark.
Those two seasons follow something of an anomaly – 2019. Why just 15 goals were scored in the Last 16 is hard to explain, and with 1.88 goals per game. But that edition was not the most miserly season in the Last 16, there were also only 15 goals scored in 2012.
To put that into context, Mamelodi Sundowns had netted 24 goals in the previous round alone as they hammered Northern Cape SAB Regional League side Powerlines FC.
But four of the last six years been above three goals per game, including 2016, which saw the most goals of any year at this stage of the competition.
A total of 28 were scored in the eight games (3.50 per game), thanks largely to two matches that had six goals each.
BidVest Wits brushed aside third-tier minnows Magesi FC 6-0, a game in which winger Daine Klate scored four times, while eventual champions SuperSport United played to a thrilling 3-3 draw with University of Pretoria before triumphing on penalties.
That game was notable for one of the AmaTuks scorers, Ian Chikohwa, a graduate of the Nedbank Ke Yona Team who became the first player from that campaign to net in the Nedbank Cup.
Only four of the 16 competing sides were kept scoreless in that round as the strikers found their scoring boots over the week that the games were played.
Just behind on the scoring stakes is 2011, who matched the 2020 total as 27 goals, including a 4-0 win for Kaizer Chiefs over then defending champions Wits and a 4-3 thriller between Witbank Spurs and Mpumalanga Black Aces that was won by the latter.
The biggest victory for a team in the Nedbank Cup Last 16 came in 2008 when Bloemfontein Celtic thumped second-tier Ikapa Sporting 8-1, part of a total of 24 goals scored that year.
That is the same number as in 2009 and 2018, the other instances where there has been an average of three goals per game.
GOALS IN THE NEDBANK CUP LAST 16
2008 
Goals: 24
Average per game: 3.00
Most goals in a game: Free State Stars 8-1 Ikapa Sporting
2009
Goals: 24
Average per game: 3.00
Most goals in a game: University of Pretoria 4-3 Kaizer Chiefs
2010
Goals: 21
Average per game: 2.63
Most goals in a game: BidVest Wits 4-1 Thanda Royal Zulu
2011
Goals: 27
Average per game: 3.38
Most goals in a game: Witbank Spurs 3-4 Mpumalanga Black Aces
2012
Goals: 15
Average per game: 1.88
Most goals in a game: Black Leopards 0-4 Kaizer Chiefs
2013
Goals: 20
Average per game: 2.50
Most goals in a game: African Warriors 2-2 Maluti FET College 2; Tembu Royals 1-3 Maritzburg United
2014
Goals: 22
Average per game: 2.75
Most goals in a game: AmaZulu 1-4 BidVest Wits; Lamontville Golden Arrows 1-4 Mamelodi Sundowns
2015
Goals: 17
Average per game: 2.13
Most goals in a game: Platinum Stars 1-3 Mamelodi Sundowns
2016
Goals: 28
Average per game: 3.50
Most goals in a game: Magesi FC 0-6 BidVest Wits; SuperSport United 3-3 University of Pretoria
2017
Goals: 19
Average per game: 2.34
Most goals in a game: Free State Stars 1-4 Orlando Pirates
2018
Goals: 24
Average per game: 3.00
Most goals in a game: AmaZulu 2-3 Ubuntu Cape Town
2019
Goals: 15
Average per game: 1.88
Most goals in a game: Cape Town City 3-0 Highlands Park; The Magic 0-3 Kaizer Chiefs
2020
Goals: 27
Average per game: 3.38
Most goals in a game: Happy Wanderers 3-4 TS Sporting 
2021
Goals: 25
Average per game: 3.13
Most goals in a game: Cape Town All Stars 3-3 Cape Town Spurs