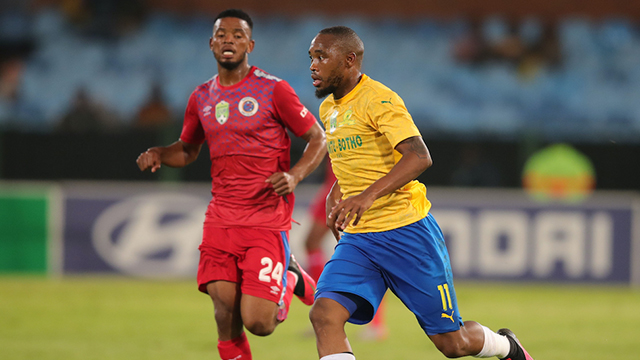 Vilakazi can't wait for Nedbank Cup return
Mamelodi Sundowns forward Sibusiso Vilakazi says he is itching to "smell the grass again" as the Premier Soccer League (PSL) takes a step closer to re-starting the season when they meet on Tuesday.
It is hoped that plans will be finalized as to where, and when, the season will get back under way, which includes the two Nedbank Cup semifinals that see Vilakazi's side take on BidVest Wits, while Baroka FC tackle Bloemfontein Celtic in the other.
For 2010 Nedbank Cup winner Vilakazi it has been a long wait with no action, especially as he has had to endure a number of injury woes in recent seasons, but is now fully back to fitness and had hoped to enjoy a steady run of games.
"I am grateful for being injury-free, and when that happens the coaches will give you the opportunity, and I think I have done the job the best way I can," he said. "My priority has been to do my best to help the team. That's my motto this season. I believe I can get better once we resume football because Sundowns is a team determined to get more trophies.
"I want to smell the grass again, get the feel of the ball on my boots, wear the training kit and going for it again, and hearing the coach [Pitso Mosimane] give us that pep-talk again, that we are back.
"Those are the things that I am looking forward to and to see how we go about the remaining games and the Nedbank Cup, that's exciting."
Vilakazi believes there have been some positives to the pause in the season due to the COVID-19 pandemic.
"There's a positive side and the negative side of the break – the negative being that it has gone on beyond what we anticipated and led to a bit of frustration.
"We thought by now we would be back doing what we do best, which is playing football. We thought things would get back to normal in terms of it being okay for us to go back, does it make sense and given the medical greenlight.
"But the positive side is of course the opportunity to bond with our families because we are away so much. We participate in the CAF Champions League and that in itself takes so much time away from family, the beautiful side is seeing your children daily now.
"It's how we test ourselves in Africa to see how far we can go, so it has the negative and the positive side."
Vilakazi was part of the Wits squad that won the 2010 Nedbank Cup, though he did not feature in the final. He was still with the club four years later when they lost 3-1 to Orlando Pirates in the final in Durban.