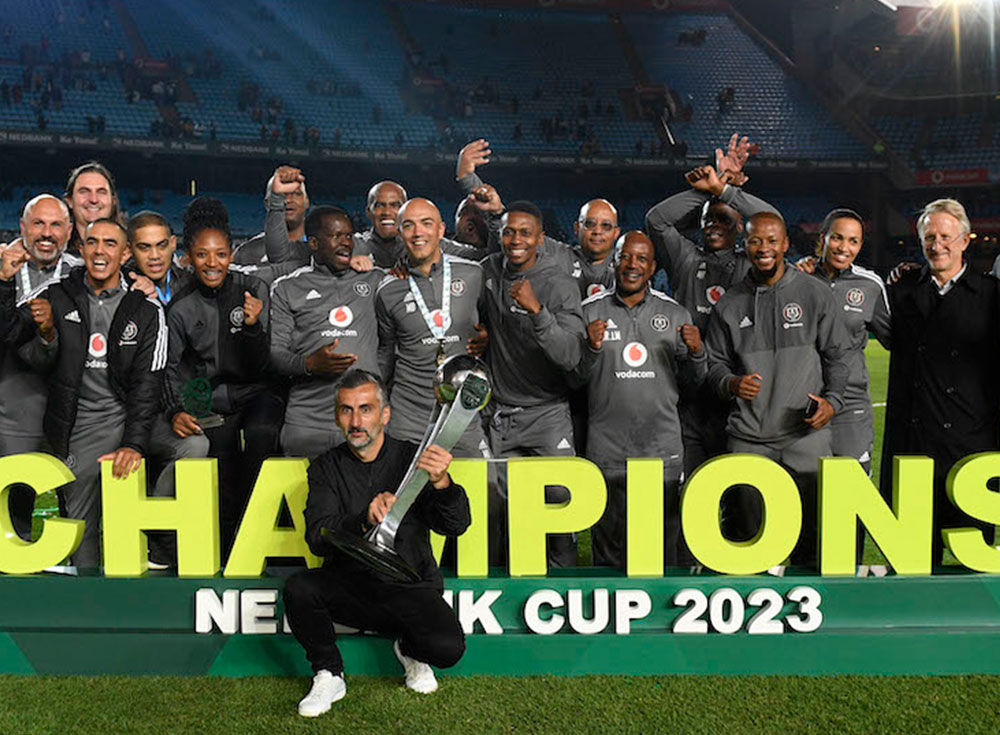 I am now more popular on the street – Riveiro
PIC: Jose Riveiro (front, with trophy) and his technical team at Orlando Pirates

Orlando Pirates completed an excellent 2022/23 season by claiming the 2023 Nedbank Cup with a 2-1 victory over Sekhukhune United in thrilling final at Loftus Versfeld Stadium on Saturday.
Victorious coach Jose Riveiro adds his name to the list of past winners, becoming the first Spaniard to do so and the 14th coach overall to win the trophy since 2008.
He reflects on the final win and his first season in South African football.

Your thoughts on the game?
We had control but had to chase a goal with our opponent doing well to minimise our chances. We had one clear opportunity from Kermit [Erasmus] and when the game was about to go to the halftime, I don't know exactly what happened but it seems that it was a penalty and then the game changed. We were a bit too long [with our passes], with four players attacking and six players behind [defending]. Even in the first half, every time we had a duel, we managed well but the central midfielders didn't have bodies enough around the ball to consolidate the defensive action. I think it was an issue during the whole game. I don't know exactly the reason. When the game was about to finish and go to extra-time, we had a great combination. [Kabelo] Dlamini to [Monnapule] Saleng and 'Super' Terrence [Dzvukamanja] again was in the right place.
What did you make of the penalty your side received?
From my from my position on the bench, there's nothing I can say. I have seen a player on the grass. I don't know exactly what happened. But I've seen a picture where the player is touching the ball deliberately with his hand. But I didn't have the opportunity to watch the [replay].
Miguel Timm was a stand-out player for your side …
Miguel has an excellent understanding of the game. He has the game in his brain and that helped him to reduce his own shortfalls. He's not the fastest player on the field, but his brain is quicker than the average player. And he used it to be in the in the right place today. I think both teams have that profile in the midfield, intelligent players. 
You left captain Innocent Maela on the bench. What was the thinking behind that? 
The team selection was highly influenced by set pieces, we don't have the tallest team in the league, so we have to always be careful. We knew Sekhukhune is powerful with set pieces. Again, the collective was fantastic. It was not a great football, but it was a final and we played the way we have to in these in these situations. 
It has been a superb season for you with two trophies and a CAF Champions League place …
We have a fantastic group and resources. I am a bit more a bit more popular on the street after 10 or 11 months here. But we are a team, I will always emphasise this because it's going to be the thing that will help us to be what we want to be in the future. And thank you to my players one more time. Thank you to the coaching staff. We finished today with 39 official games in the season and 223 training sessions in 11 months, so it's not by chance and it's not because of just me. We try to do our best always, we have bad days and we have better days. 
What do the next few weeks hold for you?
We are going to celebrate now, we really deserve it. Emotionally it's been it's been tough this season, for many reasons. It is not easy to do what you love in a different country. For me to be here, the learning process was difficult and things were not easy from the start. So yeah, I am looking forward to rest but it's not going to be too long. It's going to be longer for the players, they deserve it, but for us, the technical staff, we have to after tomorrow start working on the next season, because if we do the same things, we are going to get less, so we have to do different things to improve. But I am looking forward to seeing my family and my friends, and to go to the beach!
What are your thoughts on competing in the Champions League?
We are going into Africa to dream that we have the potential to go all the way. I'm a very optimistic person, so I have the intention to win it. We know we will find difficult trips, difficult opponents and difficulties from the referees, but Mamelodi Sundowns did a fantastic job in the competition and showed that it's possible for South African teams to compete. 
Do you expect much squad changes for next season?
Probably yeah, there's going to be movement in every team. It's going to happen. It's normal. Players finishing contracts. Some players will always look for to the future, like we do as a coaches, it's always the same. There's going to be players coming and going like every season. I hope not too many because it is important have continuity to build on the things we have done already.